Having a competitive advantage in your industry can be difficult to accomplish without the right workforce in place.
For decades, companies have approached recruiting with an ad-hoc, fill-the-position-quickly mindset. This is a mistake. Taking the time to hire individuals that suit your company, who want to help your company reach its objectives is imperative. Further, having a talent pool that you can lean on when you are in need of a new hire streamlines your process and makes growing teams a much simpler feat. How do we accomplish this? The answer is through talent acquisition strategies.
What is Talent Acquisition?
Talent acquisition is the long-term objective in which future business needs are identified. When the proper talent pools and pathways are put in place to address those needs, potential pitfalls can be more easily deflected. It also includes other strategic elements, with each having its own actions and responses.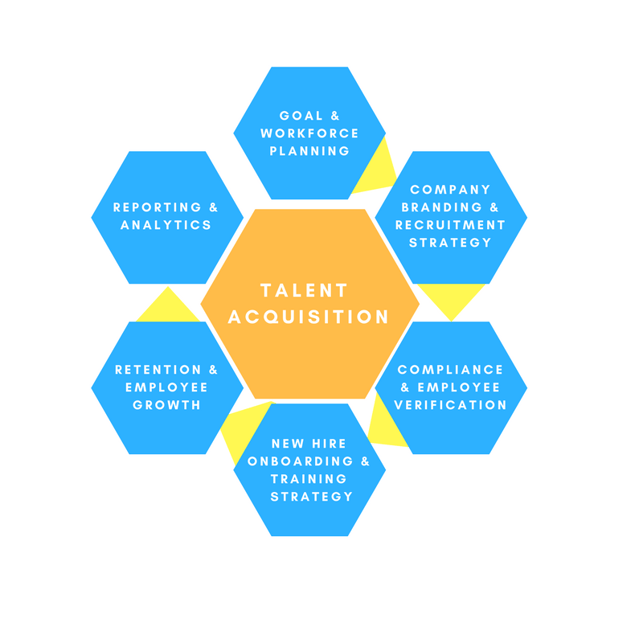 Each one of these elements would have its own set of priorities and action items. This chart may change based on the unique processes put in place at your company. The key point to remember is that talent acquisition is the core foundation for the rest of your process elements to build upon.
Building Your Talent Acquisition Strategy

When done well, talent acquisition leads to improved performance, growth, and competitive advantage. Building your strategy can be a challenge if you do not have the proper building blocks in place to make necessary changes for your organization. Below are seven crucial elements your talent acquisition strategy needs to position your team for success.
Company and HR Goal Alignment
Talent acquisition strategies focus on long-term vision for the organization. One core responsibility for HR is staffing departments with high-quality employees, and onboarding them quickly and efficiently. In order to achieve this objective, the HR team must align themselves with the core values, objectives, and goals of the company.
Why: Aligning HR goals with your company's objectives will give clarity to workforce planning.
Workforce Planning
There is no one-size-fits-all approach to workforce planning (WFP). WFP should constantly keep your organizational goals and objectives in mind as you work through this analysis. Key elements that should be included in your WFP include:
Strategic Direction

- Understand

why

you are doing WFP. Ask yourself how internal and external factors impact the organization, and determine the scope of the project.
Analyze Supply, Demand, and Discrepancies

- Understand what is needed in terms of the scope of the study, gauge what will be needed for future requirements, and conduct a gap analysis to assess the discrepancies between the current state (supply) and the future state (demand).
A Plan of Action

- Once your gap analysis is complete, you will have an understanding of skills shortages and oversupply. Determine the strategy you will use to address these issues, who will execute the items, and when they will be due. As you start to implement your plan, keep the management and leadership teams engaged. They must help assure that the workforce plans are aligned with the strategic direction of the organization for optimal results.
Track, Evaluate, Adjust

- WFP is not a one-and-done project. It is a living process that serves as a roadmap ensuring the right people with the right skills are put in the right positions at the right time. Keep on top of the findings and repeat your analysis as necessary.
WHY: Doing an in-depth study of your workforce assures that your organization is looking strategically to the future. Without it your organization may have trouble placing the right candidates in the right position when your organization needs them most.
Employer Branding and Messaging
Did you know that 62% of professionals consider employer brand as the deciding factor when applying for a job? Discovering your unique identity or brand is critical to attracting top talent. Design your online persona, messaging, and content around this identity. Encourage employees to become evangelists of your brand by writing high-rated reviews, sharing content on personal social media channels, and even wearing company "swag" inside and outside of the office.
WHY: More and more candidates are looking at a company's culture and values as much or more than the position itself. Top talent knows the type of company they want to work for. If you are not showing who you are as a company you are likely to lose your competitive edge.
Recruiting, Sourcing, and Segmenting Talent
This element is most likely the most expected component of your talent acquisition strategy. Here are a few things to consider as you build out your recruiting plan including:
Are you recruiting internally or externally?

Do you have a succession plan in place already? If not, how will you determine who to hire internally?

Where are you posting the job ad?

How is the job ad written? Does it match your employer brand?

Are current employees referring qualified candidates?

How engaged are you in recruiting candidates from social media?

What other technologies are you leveraging to recruit, source, and segment talent?

Once a pool of candidates is received, how are you verifying qualifications, background, and references?

What will attract a candidate to a particular job?
Recruiting is a large part of your talent acquisition strategy. A well thought out plan should be in place to help you achieve the success outlined in your strategy.
WHY: A recruiting plan will help you develop a talent pool that you can pull from when you need to fill a position. It will also help you determine the types of candidates best suited to your organization and the parameters to consider when interviewing for culture fit.
Onboarding and Training Programs
Having an onboarding program is imperative for improving employee retention rates. The program helps employees to:
Integrate within the company, its culture, and their direct team.

Understand the tools and information available to them to help become a productive member of their team.

Feel protected and secure in the first year of their employment with your organization.
Your organization should consider assigning a mentor to the new hire(s), and continuing the training throughout the first year (at minimum) from the employees' start dates. Additionally, high-performing organizations saw success by starting onboarding prior to the new hire's first day on the job.
WHY: 66% of companies with onboarding programs claimed a higher rate of successful assimilation of new hires into company culture, and 86% of companies felt that a new hire's decision to stay at the company was made in the first six months of employment. You can set yourself up for success by setting new hires up for success as well.
Employee Retention and Growth Plans
Think of retention as re-recruiting your workforce. In your recruiting plan, you identified what attracts a person to a particular job. However, what attracts a person is often different from what keeps them at your organization. For example, salary may dictate whether or not someone applies and/or accepts a job offer. Salary is often not what will keep them in their job. Similar to onboarding, here are a few effective methods to keep employees happy and engaged:
Training

Mentoring

Positive culture

Ease of communication

Appreciation instead of compensation

Coaching and feedback

Work/life balance accommodations

Clear pathway to growth and more responsibility in the organization
Having a proper retention strategy is key for retaining employees and improving company brand. Managers need to incorporate motivating and stimulating environments for their teams that include listening and respecting opinions, and being available to them at all phases in their career.
WHY: Employees need to feel valued, respected, and see ways to grow in order to stick with your organization. When you retain more employees, your cost of turnover stays low, which inevitably helps the bottom line of the company.
Metric Tracking and Analytics Reporting
Defining how to define the quality of a hire can be a major challenge for many organizations. Metrics you should consider tracking are:
Turnover rates (short and long term)

Time to fill (the number of days it takes to fill a position)

Cost per hire

Quality of hire

Time to accept

Time to start

Source of hire
WHY: Ultimately, recruiting, hiring, and employee retention data can be correlated with revenue. When you can prove that your team can reduce costs and improve overall revenue, you make the case to the leadership team that your department is a strategic function of the business rather than a necessary evil.
After reading this, you may feel overwhelmed. That's natural! You're starting a new project. Take these building blocks on, one at a time, and start creating your strategy gradually. As time continues, you will find yourself with a talent acquisition strategy that benefits your company through multiple elements.